Music & Spirits Inaugural Show Sells Out!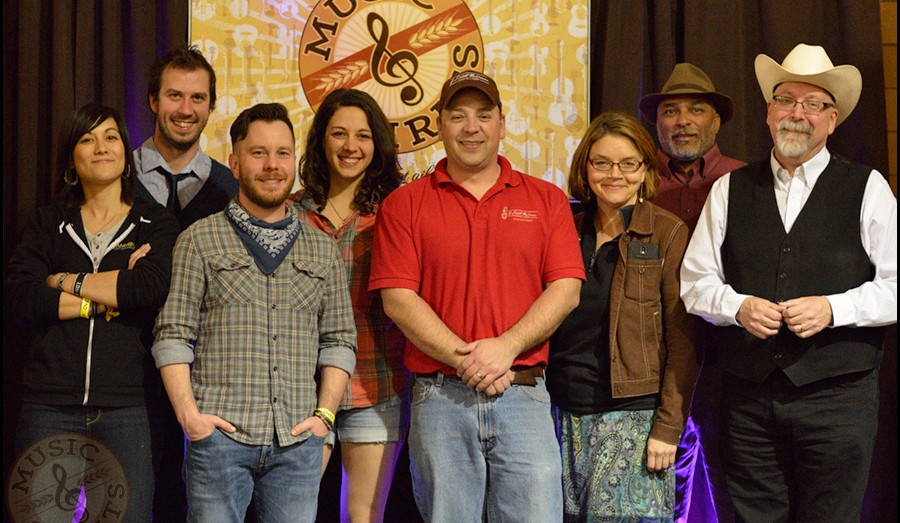 By Wendy LaRue
(Photo Credit: Vincent Knaus)
With banjoist Joe Newberry dazzling a sold-out crowd, Music & Spirits at A. Smith Bowman Distillery offered an inaugural show that is sure to keep the crowds coming back for subsequent shows and make this down home music series a Fredericksburg mainstay.
The A. Smith Bowman Distillery, offered a nostalgic setting for the concert, with it's 1930's vintage redbrick buildings and the sweet smell of whiskey in the air.
"Saturday, April 5 will now be a date for the Fredericksburg history books! Double the original estimate of tickets were sold, lots of great BBQ was consumed, distillery tours were taken, and best of all, fantastic music was provided by openers Pretty Gritty and the great headliner Joe Newberry," Ruth Golden from House About Tonight Productions said.
Husband and wife team Bryan Blakemore and Laura Cooper started the series with a partner, Joe Showers, to share their love of uniquely American music—bluegrass, blues, jazz, folk and old time. "We are so happy and grateful to everyone who came out," said Cooper. Blakemore echoed the sentiment, "we couldn't be more pleased. We're happy to be a part of this community and we're extremely grateful for everyone's support. We can't wait to do the next show!"
The next show in the series will feature jazz and blues guitarist Walter Parks, whose international career has included being lead guitarist for Woodstock legend Richie Havens, half of the folk-duo The Nudes, and leader of the neo-southern rock group Swamp Cabbage. As a solo artist, he is focusing on jazz, blues, and Appalachian tunes, featuring electric and acoustic guitars.
Tickets for the show, which is May 31 at 7:30 p.m., are available at musicandspirits.com for $18. You can sign up to receive email updates as new concerts are added. Music enthusiasts can also opt for an 11 a.m. master class with Parks. The $50 fee includes the class and a concert ticket.
See you at the show!
Wendy LaRue, owner of AhHa! Consulting, LLC, is a local free-lance writer and editor who has lived in the Fredericksburg area for more than 25 years.